Most of us have now converted to storing information in the cloud. This is true for both personal and professional file storage and sharing with more businesses making the switch. Within the personal sphere, your mobile phone or tablet is an example of using the cloud.  You may sync your iPhone with the iCloud so that all your Apple devices talk to each other, or if you are an Android user and you use Google Drive to store and share files, you can access these from anywhere as soon as you log into your Gmail account.
Gone are the days of storing everything on USB keys or hard drives, now, without making any real conscious effort, we have started migrating to the cloud and storing our data here instead. Small, medium and large sized businesses are also seeing the benefits of the cloud. Through cloud migration, data and/or applications are moving from local, on-premises data centre to public, private or hybrid clouds.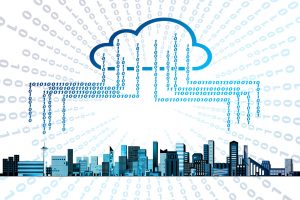 Planning Ahead
Migrating to the cloud has many benefits from flexibility, scalability, reduced costs to data security and improved collaboration. However, before migrating to the cloud, it is important to understand your reasoning for this and plan your migration strategy accordingly. You may have a need to maximize application performance or are you trying to make the most out of your infrastructure. With this, it is also important to consider additional resources for data protection and upskilling staff as required to be able reocgnise and respond to cybersecurity threats.
Finding the best Cloud Source to Suit your Needs
The cloud options available to you may come in the form of private cloud, public cloud or hybrid cloud.
Private cloud is generally managed, controlled and hosted within a private data centre or a third-party service provider. This can limit service access but you as the customer can have some control of the service implementation. Private cloud reduces risk, increases operational control and flexibility, improves security and trust as well as better IT visibility.
Public cloud shares infrastructure. It receives standardized and scalable capacity in a public data centre. The public cloud option allows for increased utliisation, reduced time to market, increased agility and collaboration with decreased costs.
The Cloud Migration Process
Once you have chosen the right option to suit your business needs, you will need to decide on the migration process. This is either a staged process or completed all at once.  This depends on the time needed to adapt to the new setup. Transitioning to the cloud can be a technically challenging process so engaging the experts is recommended. Although you may have an internal IT department who can support this process, bringing in IT specialists in this area will make the transition smoother with less downtime. The cloud migration process, although can be challenging, with the correct preparation and support can be extremely rewarding.
Global ITN – Cloud Computing Services
Global ITN's cloud computing services enable our clients to use cloud platforms to achieve their business goals. While more traditional on-premises approaches would struggle to accomplish these business goals. Using public cloud services provides flexibility and dynamism with associated cost-saving benefits. This provides new opportunities for IT and service integration as businesses grow and evolve. Additionally, our cloud computing services include cloud maintenance and cloud migration.
Global ITN is an Amazon Web Services (AWS) and Microsoft Cloud Solutions Partner. The cloud experts and consultants at Global ITN will assess and deliver advanced cloud solutions that will fast-track our clients to reach their business goals.