Website and web application development is the work that is required to develop a website from design right through to hosting. Web development is a collaborative process between the web developer and the client before launching and allowing access to the public. The website developer's role is to bring to life the clients' ideas and personal/business needs so that the website is fit for purpose whether it is a static website or a multi-tiered web application. The web development process design phase includes planning, website design, web content development, scripting/coding, testing, deployment, and network security configuration.
Once the design phase is completed the design team moves towards preparation for web launch with web application enhancement to speed up and enhance the interaction of different platforms and users by taking advantage of special user or device capabilities. Once the application is optomised the web application hosting options are considered using the software as a service (SaaS) solution cloud infrastructure easily accessible.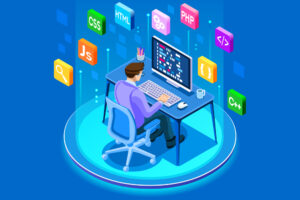 Global ITN takes into consideration the key aspects of search engine optimization (SEO) to ensure your application is configured optimally for maximum exposure and lead generation. Finally, as ongoing support, Global ITN offers ongoing web application support and maintenance developed internally. Our support services include:
Our development takes away the restraints of off the shelf software. Global ITN's attention to detail allows your teams to focus on their tasks at hand with effective scalable applications that fit seamlessly into your IT infrastructure.

Content Updates
Web Programming
ASP, PHP, Java, Angular, Ruby, Python and more Web Application Maintenance
Customized Open Source Platforms
Bug Fixes
Code Reviews
Cloud-Based
Scalable
Resoonsive
Faster
Secure
Geographically Diverse
Global ITN's web development and web app development services are as follows:
Efficient database access
Fully customization
Business Analytics
Post Purchase Support and Maintenance
Full Process Automation
Mapping Business Processes and Flows
Defined Acceptance and Handover Criteria